When you make a purchase for your business and you do not pay at the time of purchase, then you have an account payable, which is recorded in your books as a liability. An account payable is essentially a debt owed for goods or services received. It is important to manage accounts payable, to pay bills on time, manage cash flow, and maintain an accurate balance sheet. 
Accounts Payable Requirements
The best way to keep up with your accounts payable is to have a system. The accounts payable system should integrate with your accounting software. The system should keep records of when bills are due and whether or not they are paid, in part or in full. Additionally, it should provide a means to make payments, either by initiating an ACH payment, or by sending a check by mail. And finally, your accounts payable system should support various user roles, including an 'approver' role and a separate 'payer' role, to support a clear separation of duties and reduce your risk of embezzlement.
Accounts Payable Application
At the time of this writing, one of the most popular and capable accounts payable management systems is Bill.com. Bill.com provides support for all the necessary functions mentioned above. Regarding the integration with your accounting software, there are certain functions that overlap (i.e., functions supported by both your accounting software and your accounts payable solution), and it is important to understand which software to use for specific functions.
Accounts Payable Roles & Responsibilities
Accounts Payable is a joint responsibility between the office manager and the bookkeeper, as communicated in the following overview diagram for cloud-based bookkeeping roles & responsibilities.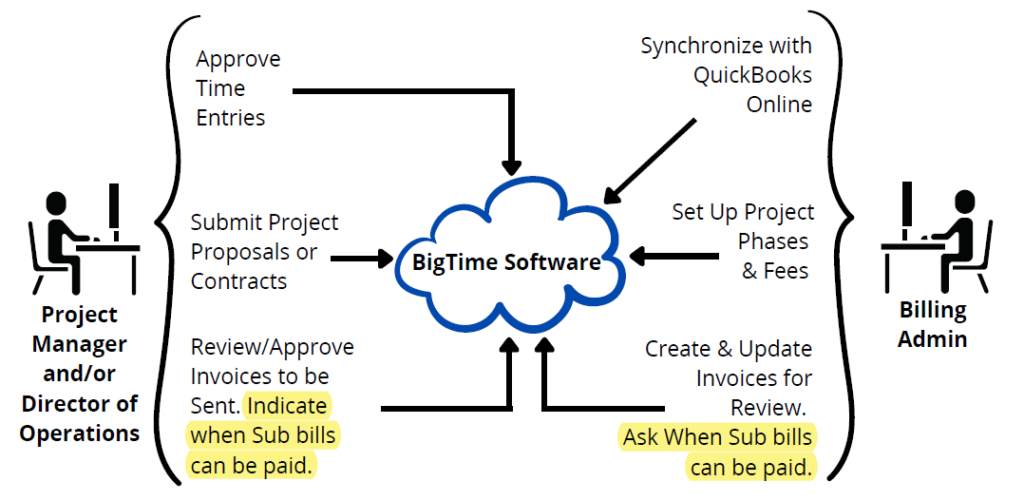 Accounts Payable Concept of Operations
This concept of operations is specific to Bill.com and QuickBooks Online. And you may adapt the concept to a different accounts payable management application or accounting software. The office manager has posted an unpaid subcontractor bill to QuickBooks using your records management application, AutoEntry. Your billing administrator communicates the subcontractor bill to a project lead. And the project lead identifies a customer invoice that must be paid prior to paying the subcontractor bill. The billing administrator stores this information in the memo field of the subcontractor bill in QBO. Your Bill.com account synchronizes with QuickBooks (once per day), and the unpaid bill moves to an approval queue in Bill.com.
Bill Approval
The unpaid subcontractor bill is in the approval queue. When the customer pays the associated customer invoice, then the bookkeeper sends a request for final approval to pay the subcontractor bill. When your office manager approves, the bill moves to a queue of bills to pay. Then, when the bookkeeper performs the 'Pay Bills' workflow, the bookkeeper schedules the subcontractor bill for payment.
Bill Payment
When the bookkeeper schedules a bill payment, Bill.com withdraws funds to cover the payments from a checking account that you have previously configured for making payments using Bill.com. When using Bill.com with QuickBooks Online, it is very important to pay bills, or mark them as paid using Bill.com. Although QuickBooks Online provides means to implement certain accounts payable functions, it is very important to perform them using Bill.com, for the integration with QuickBooks Online to work as intended.
Accounts Payable Workflow
The 'Pay Bills' workflow depends upon regular submission of bills, using the records management system. The bookkeeper performs this workflow at least twice per month, or up to once per week, depending upon transaction volume. You may choose to manage your workflows, including this one (provided below), using a cloud-based application. The one I use is 17hats.
Separate User Roles
| | |
| --- | --- |
| Role | Description |
| 1 | Approver – The approver (office manager) reviews requests for approval to pay bills. |
| 2 | Payer – The payer (bookkeeper) requests approval to pay bills, and when approval is received, the payer pays the approved bills. |
Pay Bills Function
| | |
| --- | --- |
| Step | Description |
| 1 | Verify Accounts Payable – In the accounting software, the following data fields are confirmed to have been entered correctly: invoice number, vendor, due date, amount due, and customer. Once verified, each bill is marked as verified in the memo field. |
| 2 | Identify Subcontractor Bills that are Okay to Pay – When a new subcontractor bill is received, it is communicated with the associated project manager. And a determination is made as to when the bill can be paid. Usually payment is associated with receipt of a particular customer invoice payment. When the customer invoice is paid, then the subcontractor bill is okay to pay. |
| 3 | Request Approval to Pay – When subcontractor bills that are okay to pay have been identified, they are sent for approval to pay. |
| 4 | Wait for Approval to Pay – Wait for a response to the request for approval to pay. |
| 5 | If Sufficient Funds, Then Pay Approved Bills – In the accounts payable application (e.g. Bill.com), pay the bills that have been approved to pay. Usually there are sufficient funds, because the bills are approved when corresponding customer payments are received. |
| 6 | Else, Pay Oldest Bills – In case of a shortage of cash, the oldest bills are paid, and the remaining bills are paid the next time the workflow is performed. |
Referenced Applications
To learn more about the applications referenced in this post, please click the following external links:
Accounting Software, QuickBooks Online (QBO):

https://quickbooks.intuit.com/

Accounts Payable Application, BILL:

https://www.bill.com

All-in-One Small Business Management Platform, 17hats:

https://www.17hats.com
Subscribe to Learn More
Improve efficiencies at your architecture, engineering, or design firm by subscribing to this blog. Specifically, the blog provides hints and tips for the administration of Cloud Accounting, Payroll Services, and Professional Services Automation. When you subscribe, you get notifications when new posts are published. To subscribe to this blog, enter your email in the block below, and click the Subscribe button.
Explore Other Blog Posts