When you make a purchase for your business, you receive either a receipt or a bill. This depends on whether you have paid, or you will pay later. Regardless, the Internal Revenue Services requires that you save the document associated with the transaction for up to seven years. In this context, the information that documents a financial transaction is called a record. In order to meet record keeping requirements, your bookkeeping system should include a records management system. And the records management system should have a means to link your financial transactions with supporting documents or information.
Records Management Systems
When I was growing up, my mother owned and operated her own business. Her system for records management consisted of a box with a label to indicate the year. She filled the box with bills and receipts and other financial documents throughout the year. Then, when the new year arrived, she added the box to a stack of boxes that held documents for previous years. And she labeled a new box for the new year. I believe many of these boxes are still in storage now, long after the (up to) seven-year requirement. Have you had a similar experience? I find this system is not very practical, especially when searching through multiple boxes for a transaction that happened years ago. Although not practical, the system works infinitely better than not having a system at all!
Records Management Requirements
Let's consider what we should expect from a records management system. A records management system should provide multiple, easy to use interfaces for document submission, e.g., file upload, email, or smartphone application. A records management system should also synchronize with your accounting software. The system should pull account information from the accounting software. And the system should provide means to categorize transactions by account and post them to the accounting software. In addition, the system should include a means to attach supporting documents when posting transactions. Finally, a records management system should keep a record of documents submitted to it and of transactions posted to your accounting software.
Records Management Applications
Data Entry applications perform records management for bills and receipts. At the time of this writing, HubDoc and Dext are two of the most popular data entry applications. Either one of these applications does everything you need for records management and more. After trying these applications and others, my personal favorite data entry application is AutoEntry. It is my favorite because of its simple user interface and its "pay for what you use" pricing model.
Choosing a Records Management Application
Choosing the best records management application for your company can be a daunting task. With so many options, you may experience application overload. Then when you finally make a choice, you may receive an email describing a shiny new application that is even better! What to do? Application developers are constantly battling for your attention.
Application Bundles & Ecosystems
One option is to choose an application developer that bundles capabilities as part of an ecosystem. For example, you may choose a vendor that provides accounting, time keeping, records management, bill pay, and invoicing functions. At first, it may seem like an advantage to work with a single provider that provides all of these functions. There is a risk, however, in placing all of your eggs in a single basket. The risk is 3-fold. First, you depend heavily on a single vendor, and it is not easy to change all of your processes at the same time. Second, you are at the vendor's mercy when it comes to price changes that impact your bottom line. And third, you are at the vendor's mercy when it comes to function changes that impact your workflow.
Best-of-Breed Approach
An alternative approach is the best-of-breed approach. Using this approach, you choose an application that suits your needs and integrates well with other applications you are using. Using this approach, you are not tied in to one vendor. And if you find a shiny new application that plays well with your other applications, it is not hard to integrate into your current workflow.
Accounting documents have different types. For example, bills are documents relating to purchases, (money spent), and invoices are documents relating to billing (money received). It follows that different document types drive different needs within your business. Using a best-of-breed approach, different applications perform the records management function for different document types. For example, AutoEntry, a data entry application, performs records management relating to vendor purchases. And BigTime Software, a professional services automation software, performs records management relating to customer invoices.
Records Management Roles & Responsibilities
Records Management is a joint responsibility between the office manager and bookkeeper, as communicated in the following overview diagram for cloud-based bookkeeping roles & responsibilities. Depending upon your staffing strategy, the office manager and bookkeeper roles may be delegated to one or more employees. Alternatively, you may decide to outsource the bookkeeper role to an outsourced bookkeeper or accountant.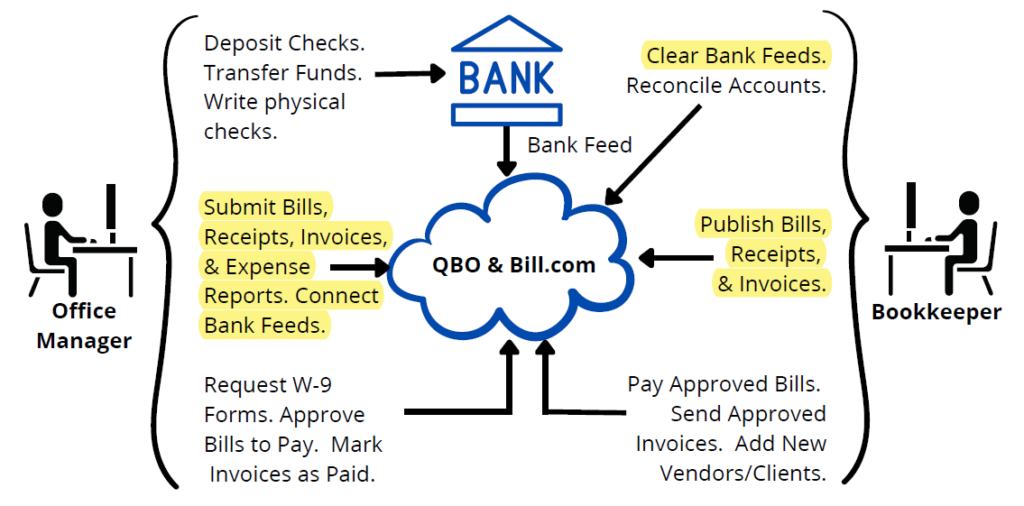 Records Management Concept of Operations
Now let's consider a concept of operations for an individual using AutoEntry to manage documents relating to purchases. The AutoEntry application integrates with QuickBooks Online. While this concept is specific to AutoEntry and Quickbooks Online, the general concept may be adapted to a different data entry application or accounting software. You are the individual. And you have a vendor bill or a receipt that represents a purchase relevant to your business. "You" may be the owner, or office manager, or another employee that makes purchases for your company. (AutoEntry supports multiple users per company.)
Document Formatting
If your document is already in a digital format, e.g., PDF, JPEG, or email, then it is ready to submit to AutoEntry. Otherwise, if it is a paper document, then you scan the document as a JPEG image or a PDF document. Or, you snap a picture using the AutoEntry smartphone application.
Document Submission
You have a few options for submitting the document to AutoEntry. If the document is a file on your computer, then you upload the file using your secure login at the AutoEntry website. When logged in to your account, you may access an email address specific to your business and the document type. As an alternative to uploading the document using the secure website, you may email the document using the email specific to your business and document type. If the document is a photograph taken using the AutoEntry smartphone application, you submit the document using the smartphone application.
Data Extraction
After submitting your document, AutoEntry scans the document to extract any relevant data fields. When this processing is complete, you view the document and relevant data fields within your AutoEntry online account. Then, you reference an interface document that identifies how each AutoEntry data field should be filled in, according to each vendor bill or receipt. Relevant data fields include the vendor name and the account (from your chart of accounts). Other data fields include a due date, method of payment, and line items when a transaction is attributed to multiple accounts.
Document Posting and Archiving
You review the document captured by AutoEntry for legibility, and you confirm the data fields are correct. Then, you post the transaction from AutoEntry to QBO. Once AutoEntry posts the transaction and attached document to QBO, AutoEntry saves the transaction in an archive. The archive of transactions is useful when you receive a bill, and you are not sure if it is a duplicate. With a quick check in the archive, you see if the bill has already been submitted. When AutoEntry publishes a transaction to QBO, you can search for the transaction by vendor, customer, account, date, or by some combination of these parameters. This means that accounting transactions with supporting documentation are readily available to you or your accountant. This is valuable because the information is available when needed for an audit, tax return, or some other purpose.
Records Management Workflow
The Records Management Workflow is comprised by a two-part Data Entry process: (1) Publish Bills to QBO; and (2) Clear Bank Feeds. The first workflow posts vendor bills, vendor receipts, and vendor refunds to QBO. This workflow depends upon regular submission of bills, receipts, and credit memos to the records management system, AutoEntry. The second workflow clears bank feeds in QBO, where transactions are matched to the documents posted to QBO in the first workflow. The second workflow depends upon connected bank feeds in QBO, or the availability of comma separated values (CSV) files with bank transaction information.
These workflows are performed at least semi-monthly or up to once per day, depending upon transaction volume. You may choose to manage your workflows, including these two (provided below), using a cloud-based application. The one I use is 17hats.
Publish Bills to QBO Workflow
| | |
| --- | --- |
| Step | Description |
| 1 | Login to AutoEntry – When ready to post bills, receipts, or refunds to QBO, login to AutoEntry by entering your assigned username and password. |
| 2 | View Rejected Entries – AutoEntry processes your documents in order to recognize and pre-populate certain data fields. Sometimes during this process, documents are rejected, and you will need to review them. |
| 3 | View First (or Next) Entry – View the first entry by clicking the AutoEntry icon in the View column. |
| 4 | If Vendor Bill (or Receipt), Confirm AutoEntry Fields Filled Per Interface Document – An interface document identifies the format of each vendor bill or receipt document. |
| 5 | If Vendor Refund, Confirm AutoEntry Fields Filled Per Interface Document, Except Payment Details – The payment details are not applicable for a vendor refund (or vendor credit). |
| 6 | If AutoEntry Fields Confirmed, Then Publish To QBO – Click the 'Publish and next' button. |
| 7 | Else If AutoEntry Fields Not Confirmed, Then Skip – Review the item during the next customer meeting. |
| 8 | If 'Closed Time Period Warning', Update 'Date' and 'Payment Date' Fields to 1st Day of Open Period And Re-Publish – AutoEntry cannot post to a closed period in QBO, so you need to update the 'Date' and 'Payment Date' fields to the first day of the current, open period. |
| 9 | Repeat steps 3 – 8 For Each Entry In The Inbox |
| 10 | Schedule the 'Clear Bank Feeds' Workflow |
Clear Bank Feeds Workflow
| | |
| --- | --- |
| Step | Description |
| 1 | Update Bank Feeds – Open QBO file, and update bank feeds. Fix any connection issues. |
| 2 | Clear Bank Feeds in QBO for Money Received – Record deposit information from the bank feeds. Add bank deposits. Match deposits in bank feeds. |
| 3 | Clear Bank Feeds in QBO for Money Spent – Match funds spent that match a journal entry. Match funds spent that match a check. Match funds spent that match to a transfer. Add funds spent, where a rule is applied. Match funds spent that have documentation attached. |
| 4 | Notify Office Manager of New Transactions Missing Documentation – Send an email to the office manager with an attached list of transactions that are missing documentation. |
| 5 | Reschedule the 'Publish Bills to QBO' Workflow |
Referenced Applications
To learn more about the applications referenced in this post, please click the following external links:
Subscribe to Learn More
Improve efficiencies at your architecture, engineering, or design firm by subscribing to this blog. Specifically, the blog provides hints and tips for the administration of Cloud Accounting, Payroll Services, and Professional Services Automation. When you subscribe, you get notifications when new posts are published. To subscribe to this blog, enter your email in the block below, and click the Subscribe button.
Explore Other Blog Posts